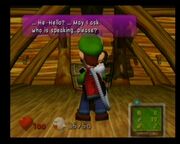 The Suicide Theory
It is shown that whenever Luigi was talking to either Toad or Professor E. Gadd in the Telephone Room, lightning would strike the room, and it would reveal a silhouette of Luigi's body being suspended in mid-air. It is believed that Luigi had actually committed suicide by hanging himself from the ceiling, and that Luigi's Mansion is chronologically the last game in the Mario franchise.
Bogmire
The boss Bogmire resembles the Spoils Bag from The Legend of Zelda: The Wind Waker; this could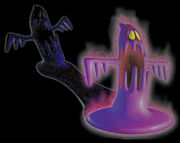 possibly mean that the Spoils Bag inspired Bogmire.