"And here's another clue for you all; the walrus was Paul" ~ John Lennon, Glass Onion, The White Album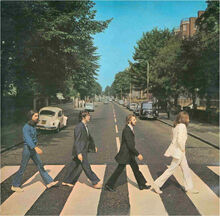 The Gist of It
This theory claims that the real Paul MCartney, a member of The Beatles, was actually killed in a car accident early on and then replaced with a look-alike, or doppleganger.
Summary
The theory started when Abby Road came out and the cover had all four crossing the street, with Paul being the only one not wearing shoes. Bare feet can symbolize death, so this led fans to theorize that the symbolism was intentional and Paul was dead. Paul stated that he was barefoot because it was so hot out, but many remain suspicious, pointing out how his appearance supposedly changed after the incident. Also, wouldn't it be painful to walk across a hot road while barefoot?
Changes in Appearance
Some claim he got taller.
Messages in Songs
Perhaps the most interesting part of this theory, there are a number of strange lyrics in later Beatles songs that some point to as being further admission of Paul's death. Others think that the fab four were merely having fun messing with fans.
Cryptic Lines
"And here's another clue for you all; the walrus was Paul" ~ John Lennon, Glass Onion, The White Album
Lyrics Played Backwards
'Sgt. Pepper's Lonely Hearts Club Band 
(1) The refrain of :"Getting Better" sounds like "After all, Paul is dead. He lost his hairs, head" when reversed. [1]
(2) The end of the title track's refrain sounds like "It was a fake mustache" when reversed. [1]

Magical Mystery Tour 
(1) Lyrics of the song "Blue Jay Way," when reversed, sound like "He said, 'Get me out.' Paul is what is. Paul is Hare Krishna it seems. Paulie is naughty." [1]
(2) Lyrics beginning the coda of "I Am the Walrus" when reversed sound like "Ha ha! Paul is dead." [1]

The Beatles (White Album)
(1) Mumbling heard after the final cadence of the song "I'm so Tired" sounds like "Paul is dead. Miss him, miss him." [1] ===== (2) In addition to "Turn me on, dead man," "Revolution no. 9," when reverse, contains a passage that sounds like a man screaming "Get me out."' [1]
Clues in Album Art
Clues in Movies
Outside Clues
Post-Beatles Clues
Criticisms
Evidence
1. Two different people called Paul "William" and the nickname form of it, "Bill". Who is Bill?
{{{another point}}}
{{{yet another point}}}
Counter-Evidence
1. *counter to point 1 here*
{{{another counter}}}
{{{yet another counter-point}}}
{{{point number}}}. {{{put your point here}}}
{{{point number}}}. {{{put your point here}}}
{{{point number}}}. {{{put your point here}}}
{{{point number}}}. {{{put your point here}}}
{{{point number}}}. {{{put your point here}}}
{{{point number}}}. {{{put your point here}}}
References